Our Vision Technology
Visual Field Testing
Visual Field Testing is an automated procedure, where repeated light stimulus of varying intensities appear in different parts of a patient's visual field. The results obtained from the patient are then compared with those of the age matched normal population to quantify the amount of damage in the eye.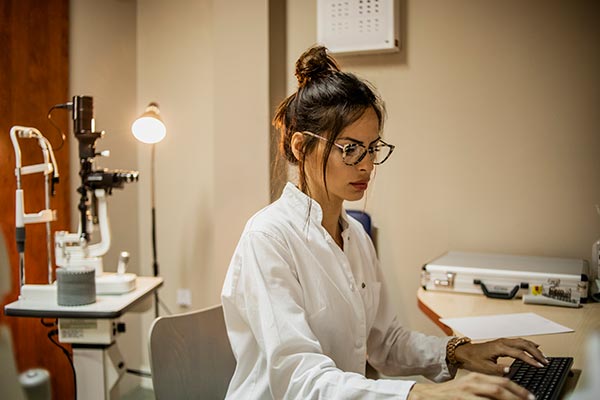 It is a simple and painless outpatient procedure. This test is especially invaluable in diagnosing and monitoring the treatment in patients with glaucoma.
It is also useful in certain neurological conditions that may affect the optic nerve of the eye and can be used to quantify defects of some visually toxic medications, as well as to problems affecting the occipital lobe of the brain.
Life-threatening conditions of the visual pathway, such as brain tumors or tumors behind the eye, can also be detected with this machine. Dr. Chao recently detected a retinal detachment with the use of this technology. We recommend that all our patients undergo a three-minute visual field screening using this equipment.
Corneal Mapping – Topography
Corneal topography is a non-invasive medical imaging technique for mapping the surface curvature of the cornea. Since the cornea is normally responsible for some 70% of the eye's refractive power, its topography is of critical importance in determining the quality of vision.
The 3D map is therefore a valuable aid for our team and can assist in the diagnosis and treatment of a number of conditions, in planning refractive surgery such as LASIK and evaluation of its results, or in assessing the fit of contact lenses. Other uses of this technology include the treatment of myopia.
Topography measures thousands of points covering the entire cornea, is carried out in seconds and is completely painless.
Visioffice Interactive System
The Visioffice System is a patented 3D program that allows our team to provide the most precise measurements of frame and lenses as they relate to a patient's face.
This technology performs and records up to 20 individual measurements including distance between the eyes, distance from the face, wrap component of the frame and optical centers – the "eyecode" for your eyes.
The system allows us to provide you with the most "customized" and "individualized" lenses possible, allowing us to provide the best visual solution for our patients.