Meet Our Friendly & Professional Team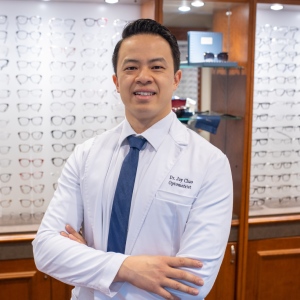 Dr. Jay Chao, Optometrist (Doctor)
Dr. Chao is a graduate of Western University College of Optometry in Pomona. He had his clinical training at Cedars-Sinai, Riverside-San Bernardino County Indian Health, Inc. and Naval Medical Center San Diego, and with corneal and oculoplastic surgeons. Through his time with the corneal specialist, he developed a passion and experience for patients who need specialty contact lenses for keratoconus, post-surgical complications and other corneal irregularities. Dr. Chao is licensed to practice optometry at the highest level able to treat those with conditions such as glaucoma, dry eyes, diabetic retinopathy, keratoconus, red eyes and binocular vision dysfunctions (BVD).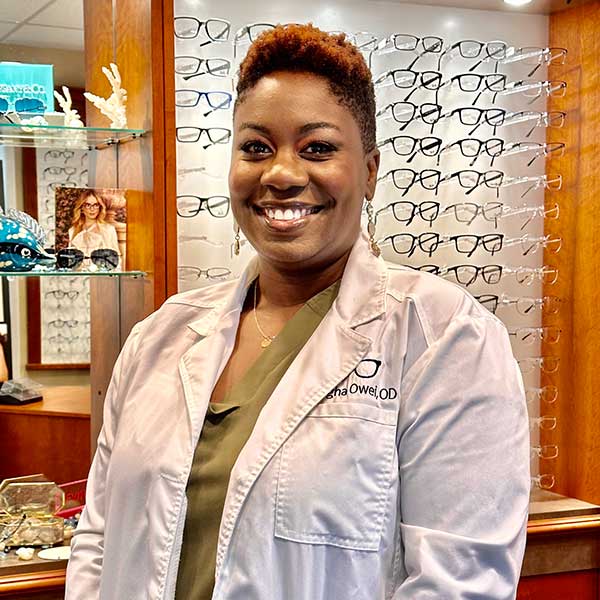 Dr. Alazigha Owei, Optometrist (Doctor)
Meet Dr. Alazigha Owei. Dr. Owei grew up in Rancho Cucamonga, CA. She graduated with a Bachelors in Applied Health from Azusa Pacific University located in Azusa, CA. She continued on to the Southern California College of Optometry at Marshall B. Ketchum University in Fullerton, CA where she received her Doctorate of Optometry. She completed her training at Camp Pendleton Naval Hospital in Oceanside, CA, Ketchum Health in Anaheim, CA, VA West LA in West Los Angeles, CA, and Crownpoint IHS in Crownpoint, NM where primary care and ocular disease were emphasized. Her training allows her to diagnose and manage various ocular conditions and disorders.
Dr. Owei's passion for Optometry and helping others is evident in the quality of care she provides to each patient. She takes the time to ensure patients have a greater understanding about their eyes at the end of their exam than they had at the beginning. She understands that each patient has unique needs and develops a personalized treatment plan based on those needs.
When Dr. Owei is not at the office you can find her exploring a new city or restaurant, at the beach, kayaking, hiking, or attending musicals and plays.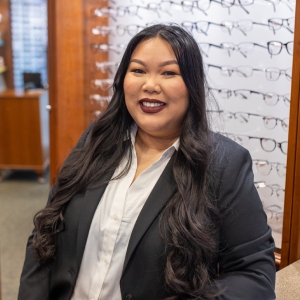 Debbie Pokphan (Office Manager)
Debbie, has over fourteen years of management experience and eight years of managing optometry offices. Debbie is passionate about team building and creating an environment of engagement for all employees and patients, she also ensures patients are happy with their exam experience from beginning to end. Not only does she manage but she is very hands on with supporting the team and Doctor where it is needed from Diagnostic to frame styling.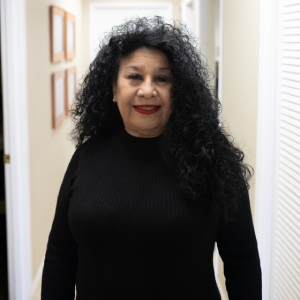 Virginia Trejo (Optician)
Virginia has more than three decades of experience working with optometrists. This enables her to help patients find the eyeglass frames and lenses that meet their specific needs and unique style (and her cheerful personality makes the process enjoyable!). She stocks more than a dozen designer lines, from classic to fashion-forward and bold. Virginia is fluent in English and Spanish.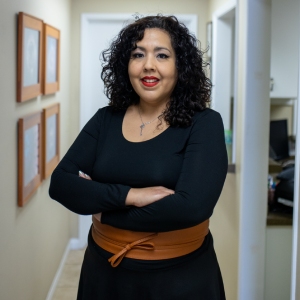 Claudia Solis (Optician)
Claudia, who is also fluent in English and Spanish, assists Dr. Chao with the diagnostic and medical aspects of the practice. She has extensive experience and training in the field of optometry. Claudia makes sure that patients' needs are addressed and they are well-informed about all of the treatments and options available to them.
Valerie Smock (Office Coordinator)
Valerie, is our front office coordinator with years of healthcare experience and is a full-time student at Cal Poly Pomona, She supports the office by ensuring each appointment visit is smooth and efficient. Valerie is also trained in patient care and supports the team when needed. You can call the office anytime for help and Valerie can support and guide you for your next eye exam visit.
Contact Advanced Eyecare of Chino Optometry Today!
Our staff is dedicated to your care. When you need a trained and experienced optometrist, call Advanced Eyecare of Chino Optometry at (909) 627-7518 or fill out the online form to schedule an appointment.